Ken Johnson, Award Winning Author
Ken Johnson is a multi-award winning author, culturalist (social scientist studying culture), conflict specialist, and the CEO of the Johnson Institute, Inc. In addition to holding an MBA from Saint Leo University and a BA in Social Sciences from the University of West Florida; he is certified by the United States Department of Agriculture as a Certified USDA Mediator (Florida), certified by the Florida Supreme Court as a Certified County Court Mediator, and he has advanced Restorative Justice facilitator training from the University of West Florida's College of Professional Studies. Routinely lecturing on the issues of conflict and culture; he also serves on the Legislative Review Committee for the Florida Restorative Justice Association, on the Board of Directors for the Florida Authors and Publishers Association, and as the Principal Chief to the Florida Tribe of Cherokee Indians. His book, Unbroken Circles for Schools, has received rave reviews from the public, Restorative Justice professionals, bloggers, and more. Here is some of what these individuals have to say about his work:
"He debates the current situation in education and justice systems in the USA, he raises serious questions and – the most important – develops a critical thinking. That's exactly what this book is: a free, democratic voice of addressing the pathologies of the current US reality, criticizing the systems' logic and functions, and suggesting a flexible school program that may lead to change the punitive attitudes and the stereotypes of how we perceive and deal with the conflicts in school settings. And this is done in a very successful way."
Prof. Vasso Artinopoulou

Internet Journal of Restorative Justice
"…Ken Johnson is clearly very educated in this subject and goes into depth very intricately, providing tips, scenarios, and examples for most - if not all - of his points, allowing for easy understanding and implementation in the future. I also believe that this book could be used, not just in the form of educational instruction for institutions, but by parents, educators, and anyone else who is interested in smoothing out their conflict management skills. I could see this being applied to businesses as well."
Katelyn Hensel

Readers' Favorite
"Bottom line? UNBROKEN CIRCLES FOR SCHOOLS, despite its simple title, is one of the most important and thought-provoking books I've ever read on any subject. More nonfiction books should be like this.
Grade: A."
Barb Caffrey

Shiny Book Review


"Unbroken Circles for Schools may be the most important book available to address school violence and bullying."
S.R. Staley
Award-winning Author

GET YOUR AUTOGRAPHED COPY NOW!!!
$35.00 + S&H
(Domestic Orders Only)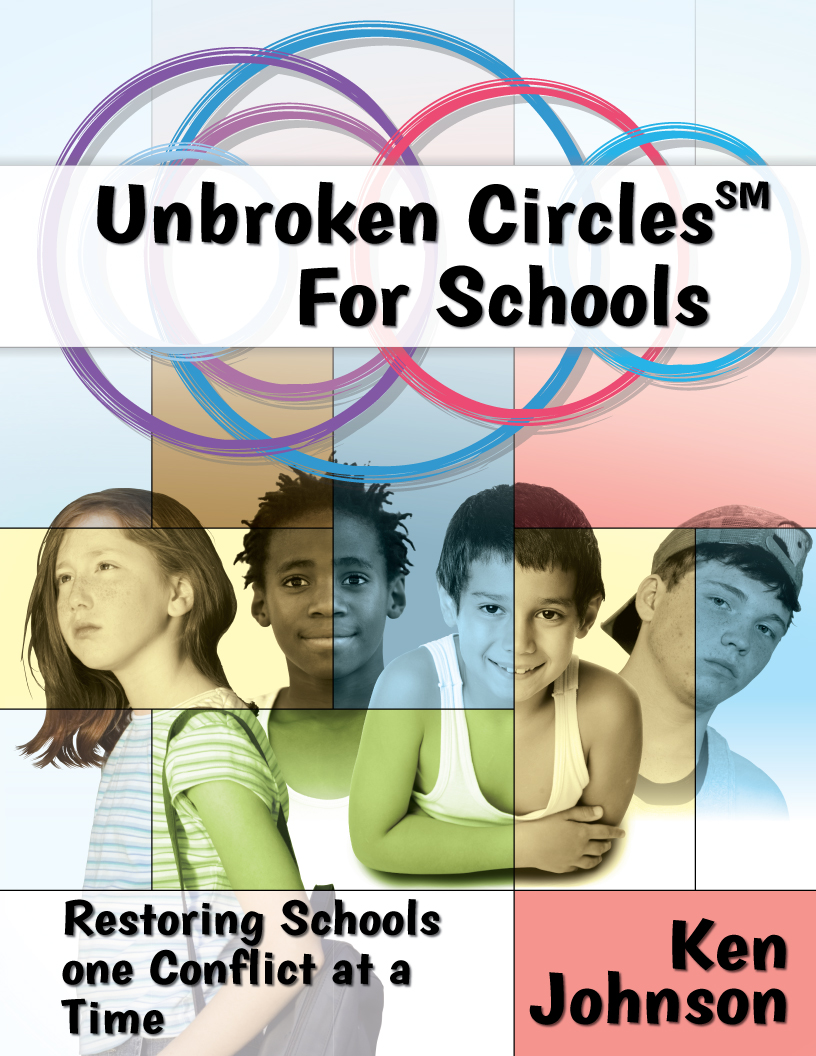 This book is the next generation in our understanding of conflict dynamics in the school system. It is a way to empower the community while helping to improve student performance, behavior, citizenship, and other points of interest. There are specifically two key points that make this book groundbreaking.
First, the book places an emphasis on keeping students in the school system. Most present day programs defer to the criminal justice system to handle most issues of student conflict. This punitive mentality has led to our nation arresting over 2 million juveniles each year and charging them for misdemeanor and felony level crimes. Based on research, this book contends juveniles are more likely to recidivate once exposed to criminal elements in the criminal justice system. Therefore, the school is the ideal place to keep students on track and out of trouble. Thus, the book offers tools to empower school officials, parents, and the surrounding community with ways to help students while maintaining order.
Secondly, unlike other school conflict programs, this book does not try to sell high-priced programs to schools. Yes, the author does offer his services if schools wish to use him. However, the goal of the book is rather to empower schools and the community so that they can develop their own programs that are tailor made for their needs. This means that even the poorest of schools can benefit without having to pay out extreme amounts of money for a professional to teach and oversee a proprietary program.